Regular price
Sale price
$30.00 USD
Unit price
per
Sale
Sold out
Discover Malté's natural hand soap with unique aromas of rosemary and white tea!
Perfect for sensitive skin, Malté's hand soap is made with smooth and moisturizing ingredients. It helps prevent dry skin in addition to providing abundant lather.
The unique properties of enzymes and vitamins found in spent grains preventing skin irritation.
Available in a 3.78 liter format to fill all the dispensers in your home!
Made in Quebec | 3.78L | Recyclable bottle
All our products are :
Biodegradable
Paraben free
Vegan
Cruelty free
Ingrédients / Ingredients

Aqua, Potassium cocoate, Hydroxysultaine, Sodium Cocoyl Isethionate, Spent Grain infusion, Sodium chloride, Disodium cocoamphodiacetate, *Phenoxyethanol, *Fragrance (Dipropylene Glycol, Methylundecanal, Limonene, Decanal, Geraniol)

*Moins de 0.5% / *Less than 0.5%
Satisfaction 100% garantie / 100% satisfaction guaranteed
Trouver en magasin / Find in store
Partager
View full details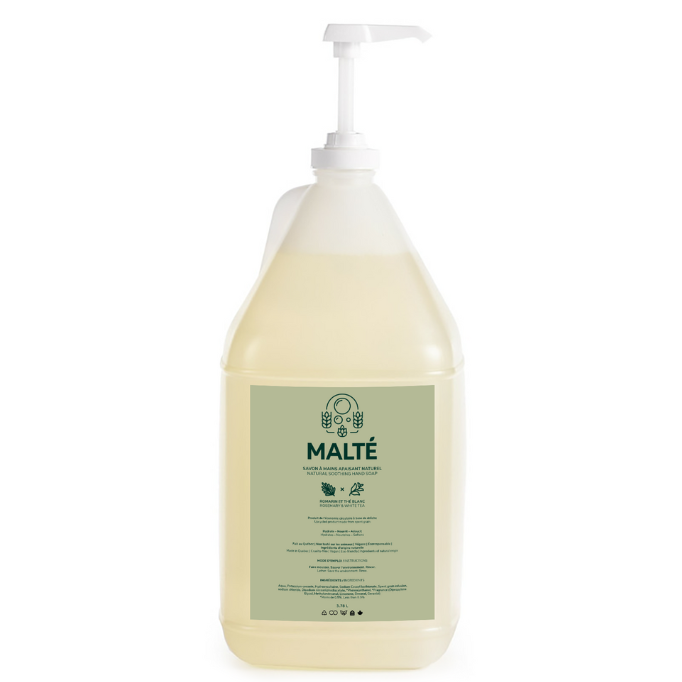 Vive le grand format!
J'aime beaucoup ce savon à mains qui sent tout simplement bon. Très heureuse d'avoir opté pour le 3.78 litres. Pratique le remplissage et écolo en plus!
Un geste pour l'environnement!
J'adore la possibilité d'acheter en grande quantité ce produit que j'adore! Il sent bon, il est doux je l'ai adopté!
Bon rapport qualité prix
J'aime bcp l'idée qu'on puisse récupérer de rebuts, afin de réutiliser ailleurs. Ça mousse bien, et il ne faut pas bcp de savon pour que ça mousse, alors je toruve ça bien. Je dois admettre que je ne suis pas tant fan de la senteur, donc la prochaine fois, je prendrai une autre. J'aimerais bien un senteur à la mangue, ou pamplemousse, ou citron... Si jamais :)
Se laver lez mains au naturel c'est top!
J'adore le fait que les ingredients soient naturels. Tres belle odeur assez discrete mais pas trop. Nettoie tres bien.